Introduction
Read the Headline Story to the students. Encourage them to create problems that can be solved using information from the story.
Headline Story
Ashley made this pattern. What can you say about her pattern?

Possible student responses
The next figure will look like this: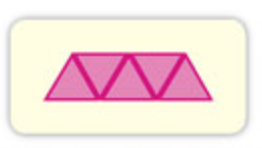 She made the next figure by adding another triangle on the right of the previous figure.
The number of triangles increases by one each time.
The sixth figure will have six triangles.