Purpose

To skip count by fives fluently.
Materials
hundreds chart (optional)
Overview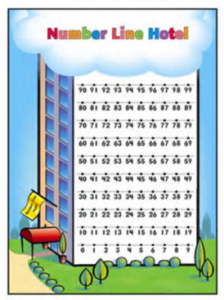 Children first practice counting by ones, emphasizing all of the multiples of five as they count, as a way to prepare for skip counting by fives. Then children skip count aloud by fives, first starting at 0, then eventually starting a different multiple of 5 (such as 20 or 35).
(Optional: As children count, move your finger in jumps of 5 on the hundreds chart or number line).
About the sequence
Part 1 begins counting by ones, having children emphasize multiples of five. Part 2 moves to counting fluently by fives, starting at 0. The extension practices skip counting by fives starting from a larger multiple of 5 (e.g., 55).
Part 1
Let's count together like this: 0, 1, 2, 3, 4, 5, 6, 7, 8, 9, 10… Ready?
Part 2
Let's skip count by fives starting at 0 and ending at _____ (50).
Extension
Let's skip count by fives starting at _____ (a multiple of five, such as 55).
Examples:
55, 60, 65, 70…
35, 40, 45, 50…
75, 80, 85, 90…